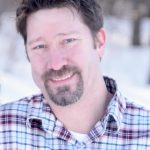 Born in Forest Lake, Minnesota I spent my childhood growing up in the northern suburbs changing schools and living in new cities before moving to Stanchfield. Attending Braham Area High School as a freshman I had graduated in 1994. I knew Braham and Isanti County was a place I could finally call home. I became active in sports lettering in wrestling and speech and debate. My experiences in public speaking aided in my desire to become active in our community. I had joined the Braham Jaycee's and have volunteered time with Braham Area Committee for Kids and Braham Dollars for Scholars.
After working masonry locally for several years after graduation I set off for college attending North Hennepin Community College and Alexandria Technical College in search for my lifetime career goal, law enforcement. That goal was created when I was 8 years old and watched as one of my younger brothers woke from a sleep in the back seat of our car to violent seizures while driving through Anoka's traffic jammed roads. I remember it as though it was yesterday as my dad yelled for cars to move as we finally made it to the Anoka Police Department. There I peered out the window as an officer rendered aid to my brother. I recall the blue uniform, clean and professional in appearance. I remember the officer bent over top of my brother before bringing him inside. I knew with no uncertainty that that was exactly what I wanted to do when I grew up; I wanted to help people the way that officer helped my brother. That goal never changed through my life and calling Isanti County home I knew that this was where I would fulfill that dream. If you find a High School year book of mine you'll see that I did exactly what I said I'd do in 10 years, become a Deputy Sheriff in Isanti County.
I had graduated in 2002 from Alex Tech becoming a student ambassador for the college and working for the Department of Corrections and Appleton Prison along the way. After graduation I had been given advice to find a job anywhere and activate my POST license and that finding a job at home was next to impossible. I didn't listen; I knew what I wanted to do and where I wanted to do it and stayed dedicated to our county. That same year I accepted a position as a corrections officer with the Isanti County Jail.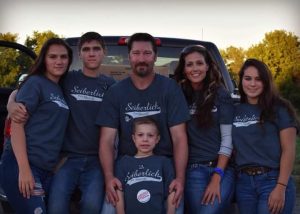 In 2002 I volunteered with Isanti County Safety Rescue and the Boat and Water Patrol. I worked hard to show my dedication to the department and was hired as a Deputy Sheriff in 2003. From 2003 to 2012 I was active in the Isanti County Special Response Team, Isanti County's version of SWAT. I was a less lethal instructor in Special Impact Munitions, Distraction Devices, Chemical Munitions and Oleoresin Capsicum Aerosol (OC) and I was a Field Training Officer in 2009 and 2010 before being promoted to Narcotics Investigator. I became a Union Steward for the county in 2016, the Forfeiture Coordinator in 2018 and was elected as Secretary of the Isanti County Law Enforcement Association in 2020.
In 2012 a colleague with the Chisago County Sheriff's Office and I brought the idea to our respective Sheriff's at the time to form a drug task force. They listened and worked together joining with Pine County. The idea was ours and we had the opportunity to name the task force. We choose the East Central Drug and Violent Offenders Task Force. There I worked plain clothed narcotics as an Agent for 6 years. I returned to the task force in 2019 for another year. I am proud to reflect on 3 Meritorious Service Awards, 2 Distinguished Service Awards, Life Saving Award and a 2016 Officer of the Year Award along with several letters of accommodations and awards from the Isanti County Sheriff's Office, MADD Association and Minnesota Secretary of State Office. i am proud to say that I am one our department's highest decorated officers. 
Through this time, I remained active in the community and within law enforcement. In 2006 I was hired as a part-time police officer with Isanti Police Department where I remained until 2010. In 2014 I was hired with the University of Minnesota Police Department where I remain employed as a part-time police officer. I became a Union Steward for the Isanti County Sheriff's Office in 2016 and remain active in that role today. In 2006 I was elected to the Braham Parks Board and ran for city council being elected in 2008 to two terms. A member of the Cambridge Lutheran Church since 2006 I became a teacher in youth ministry from pre-school and kindergarteners. Today I sing with the band in the Horizon services. In 2014 I had reestablished the Braham Cub Scouts, which had been inactive for many years. I remain the Cub Master for Pack 230 and am the Den Leader for Tiger and Wolf scouts. I have remained active with the Grandy Lions since 2015  where I have fulfilled several roles including Vice President and currently, President. I've volunteer time since 2016 at St. Clare Living Community in Mora and have most recently been accepted as a volunteer at GracePointe Crossing in Cambridge. Additionally, Through all of this I have still found time to return to school at Anoka Ramsey Community College and Metropolitan State University for my bachelor's degree, from which I have only an elective course remaining to achieve the diploma. I have attended college accredited course on leadership through the Minnesota Chiefs of Police Association, Minnesota Sheriff's Association and Minnesota Bureau of Criminal Apprehension. 
Growing up setting my mind to goals and achieving them I knew that one day I wanted to become Sheriff in Isanti County. I thought I could become an officer and work my way through the ranks one day retiring as Sheriff. But it was through my maturity over my 20 years of service that I realized that philosophy was wrong. To work hard to retire as sheriff was a way to pad my own retirement; that's not what serving the public should be. As your sheriff I'm not working for only a few years before leaving, I am dedicating the remainder of my career to this position for you. Having worked in a plain clothed capacity and with narcotics for 9 years, 2 years investigating frauds, forgeries and financial crimes, crimes again juveniles, the elderly and vulnerable adults, Predatory Offender compliance, assaults, robberies, homicides and property crimes I am one of the most well trained and versed investigators. This knowledge and experience will help me to not only teach our officers, but direct the proper resources and time to our community, bettering us all in these troubled times.